General Solar Off-Grid System Introduction 
The system is composed of solar panels, Solar Off-grid Inverter, MPPT charge controller and battery pack. Solar off-grid inverter is the core device
of solar power system, it converts DC power produced by solar panels to AC power to provide electric energy for appliances. MPPT charge controller
charges the solar electricity into batteries. When solar energy is not enough for the loads, or at night, the battery pack will discharge to replenish energy for loads.
System Features
     Safety
Overload and short circuit protection.

Auto restart while AC is recovering.

Compatible to mains voltage or generator power.
     Smart
Perfect pure sine wave output.

Selectable charging current.

Configurable AC/ DC input priority via LCD setting.
     Reliable
Built-in pure copper transformer.

Silicon-controlled rectifier(SCR) be adopted in AC by-pass.

Provide power supply to load for 24 hours.
    Intelligent
Advanced battery management system (BMS).

Support sealed battery and lithium battery.

Special AC output design, adopt emergency & heavy loads separate control.
Model

GLF1K5LF

PV Input
Max. PV array input voltage

150Vdc

MPPT voltage range

35~145Vdc

Battery
Rated voltage

24Vdc

Max. charge current

40A

Efficiency

≥ 96 %

Inverter Output

Rated output capacitor

750VA/1500VA

Rated output power

600W/1200W

Output voltage

115Vac/230Vac

Rated frequency

60Hz

Max. efficiency

≥90%

Total harmonic distortion (THD)

<3%

Rated current

7A

Current peak factor

3:1

Overload

AC Input

AC input voltage

230Vac

AC input frequency

60Hz

Max. charge current

20A

Grid pass-by

Allowed input voltage

115Vac/230Vac

Switching time

<100ms

Mechanical data

Dimension(W*D*H)inches

19*14*9
Weight

42 lbs

Other

Protecition level

IP22

Autible noice

<50dB

Cooling method

Forced cooling

Operate temp.

-68~+122°F

Storage temp.

-77~+158°F

Status indicator

LCD+LED

Interface

RS485

Elevation

6561 ft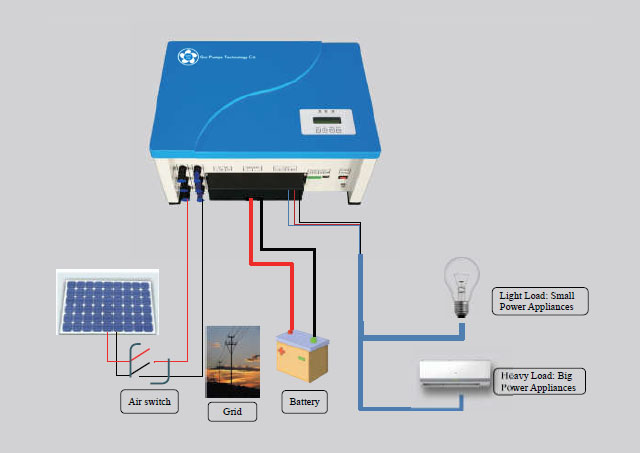 How to Wire Solar Panel?
When solar panels are wired in a series, voltage is additive, but the amperage stays the same. But if you parallel wired panels the amperage would be additive, while the voltage remains the same.