General Solar System Introduction (AC system)
Solar pumping system consists of four parts: solar panels, solar pumping inverter, Single/three-phase AC pump and water storage device. The solar pumping inverter converts DC power produced by solar panels to AC power which drives AC pump to pump water from borehole, river, lake etc. to the storage device.
The inverter applies high efficiency MPPT algorithm to maximize power harvested from solar panels. It will make the system to maximize efficiency to get the water as much as possible.
The solar pumping system fulfills concept of low energy conservation, environmental protection to improve the living standard in water-deficient area.
Solar Pump Inverter
AC Three phase solar pump inverter

Output voltage 460 VAC

Max Motor Power 5.5kw
AC Pump
Any Three phase AC pumps can be used. In order to keep high efficiency of whole system, please use all matching pumps from Gol Pumps New Energy. We take three phase AC submersible pumps as example, for solar pumping system configuration.
Model

GLP5K5H

D.C. Input

D.C. Max Input Voltage

880Vdc

Recommended MPPT Voltage

460~850Vdc

D.C. Max Input Current

12 A

Max. MPPT Efficiency

99%

Number of String

2

A.C. Output

Max. Motor Output Power

5.5 kw

Rated Output Voltage

380~460V, Three Phase

Output Frequency Range

50/60Hz

Rated Output Current

13 A

Other Parameters

Weight(lbs.)

31

Dimension (L*W*H) inches

16.5″ * 12″ * 9″

Protection Class

I

Protection Level

IP65

Operating Temperature (°F)

-77°F ~ 140°F

Cooling Way

Natural Cooling

Display

LCD

Communication

RS485/GPRS

Altitude (ft.)

9842

Noise Emission

<50dB

Compliance

EN50178;IEC/EN62109-1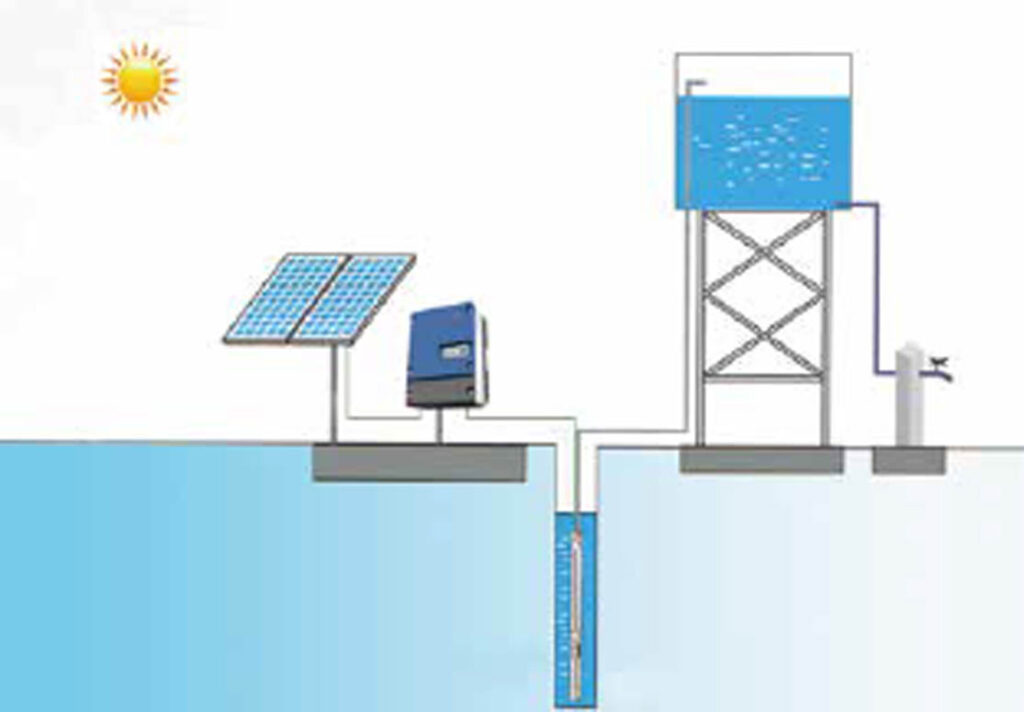 ---
How to Wire Solar Panel?
When solar panels are wired in a series, voltage is additive, but the amperage stays the same. But if you parallel wired panels the amperage would be additive, while the voltage remains the same.