Applications
Centrifugal Monoblock pump with brass impeller. These machines are ideal for pumping clean water and other chemically and mechanically non-aggressive liquids. Used for a wide variety of applications in civil, agricultural, industrial or general plant uses. Water supply, spray or flowing irrigation, autoclave feed, high pressure system and any other general service requiring transfer of clean liquids.
Operating Conditions
Liquid temperature up to 95°F (for home use according to EN 60335-2-41)
Temperature max. liquid: 194°F (for other uses)
Ambient temperature up to 104°F
Total suction lift up to 23ft.
Motor
Two-Pole induction motor (n = 3450 min-1)
Insulation Class F
Protection IP 55
Materials
Pump body: Cast Iron
Motor Support: Cast Iron
Impeller: Brass
Shaft with rotor: Stainless Steel AISI 304
Mechanical seal: Ceramic/Graphite/NBR
Technical Specifications
| | |
| --- | --- |
| Model | CFM 300 BR |
| Brand | Speroni |
| Manufacturer's Warranty | 1 year Limited Warranty |
| Ship Weight | 73.6 |
| Port Size (in.) | 2″ |
| Maximum Flow (GPH) | 7134 GPH |
| Maximum Head (ft) | 110ft |
| HP | 3HP |
| Volts | 220V – 60Hz |
| Suction Port (in.) | 2″ |
| Discharge Port (in.) | 2″ |
| Self-Priming | Yes |
| Dimensions L x W x H (in.) | 10.2″ x 20″ x 13.6″ |
| Product Weight (lbs.) | 68.6lbs |
Dimensions
Type
Dimensions
Dimensions
Weight
A
B
C
D
E
F
G
H
H1
N
DNA
DNM
P
L
H
lb
CFM 300 BR
3.8″
2.2″
16.9″
8.3″
6.5″
0.6″
8.7″
11.3″
4.7″
2.7″
2″
2″
10.2″
20″
13.6″
68.6
Performance Curve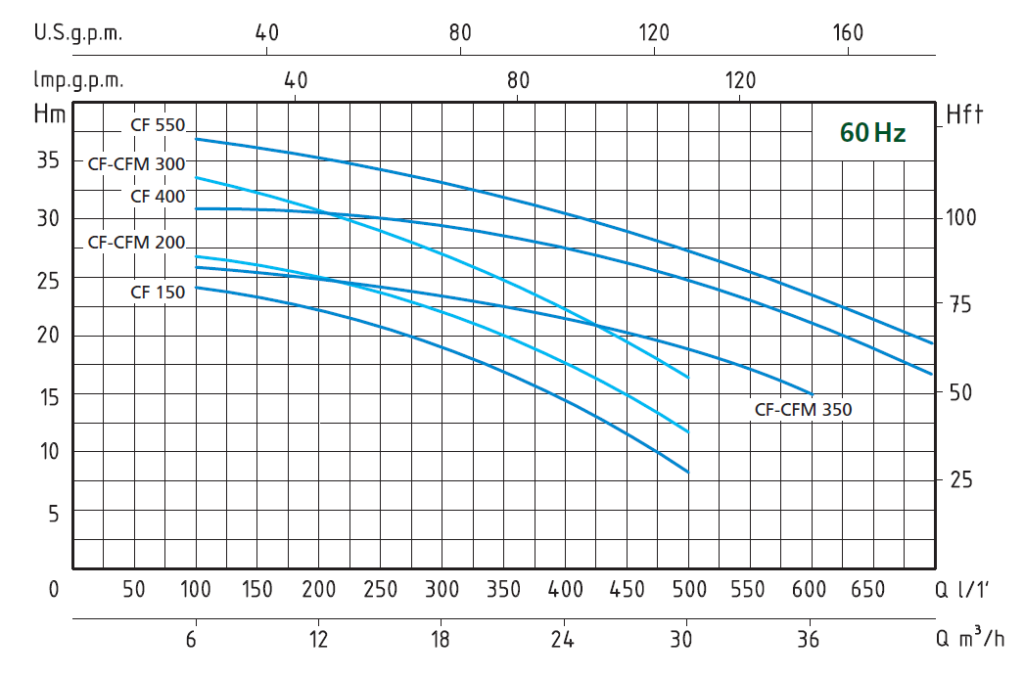 Performance Table
Type
Nominal Power
Input Power
Amperage
Capacity
220V – 60Hz
HP
KW
kW
1 x 220v
GPM
26.4
33
39.6
52.8
66
79.3
92.5
105.7
118.9
CFM 300 BR
3
2.2
3
13.5A
lt/1′
100
125
150
200
250
300
350
400
450
Head (ft)
109.9′
108.2′
106.6′
100′
91.9′
82′
72.2′
62.3′
45.9′