WEG Control Panel ESWC Series Combination Starters~ 3PH ~ 460V, 120CV with Transformer – ESWC-38TM1A9-RE4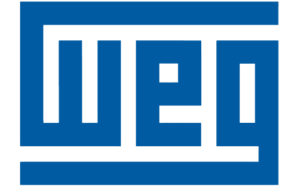 ESWC Series Enclosed Starters  
WEG offers versatile UL508A ESWC series combination starters with solid-state overloads for motor starting and control. These full voltage non-reversing combination starters are available up to 250HP at 460VAC (300A) with control power transformers for three-phase applications.
  Technical Data
Model
ESWC-38TM1A9-RE4
Panel type
Across the line
Horsepower (HP)
25HP
Thermal Managment
None
General enclosure options
None
Main voltage
208/230/460 V
Control Voltage
120 V
Frequency
60 Hz
SCCR rating
5 kAIC
Disconnect switch type
Circuit Breaker rotary handle disconnect
Bypass type
None
Control options
Start Pushbutton, Stop Pushbutton and Reset Pushbutton
Enclosure rating
Type 3R/4/12
Certification
UL
Standard Features:
Multi-Rated Enclosure Type: 1/3R/4/12;
Multi-Voltage Transformer: primary 208V/230V/460V – secondary 120V;
Branch Disconnect: rotary through-the-door handle;
Short-Circuit Protection: molded case circuit breaker;
Motor Control: magnetic IEC contactor;
Overload Protection: solid-state overload relay – Selectable trip class 10, 20, 30 / (5:1) ratio adjustable current setting;
Standard Control Devices: RESET, START, STOP pushbuttons;
Custom control options available upon request.
  *If the item is over 100 lbs, forklift is required at delivery location, otherwise we will charge $100 Liftgate service fee.