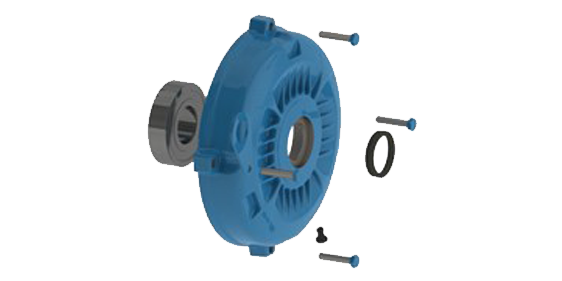 V-Ring Seal
V-Ring Seal to avoid the liquids and dust inlet in the motor.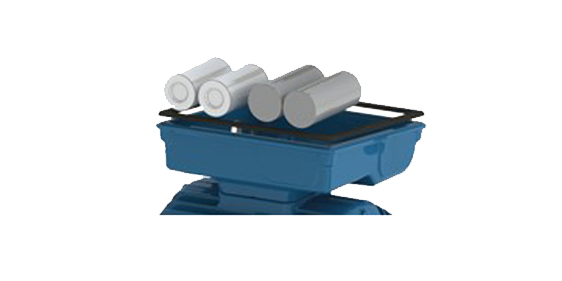 Capacitor
With runner capacitor, runner and permanent capacitor or permanent capacitor.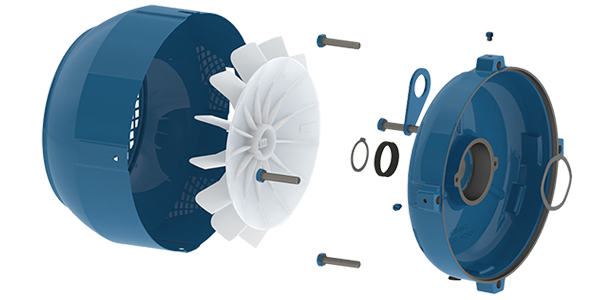 Cooling System
• The cooling system (fan, non-drive end shield and fan cover) is designed to minimize noise level and improve thermal efficiency.
• Steel plate fan cover provides high mechanical strength, corrosion resistance and extended lifetime.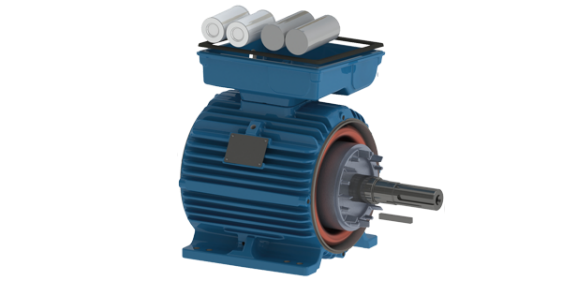 Aluminum Frame
• FC-200 (EN GJL 200) aluminum frames meeting impact level IK08 (5J) ensuring superior mechanical strength for the most demanding applications.
• Solid motor feet providing excellent rigidity, allowing easier alignment and installation.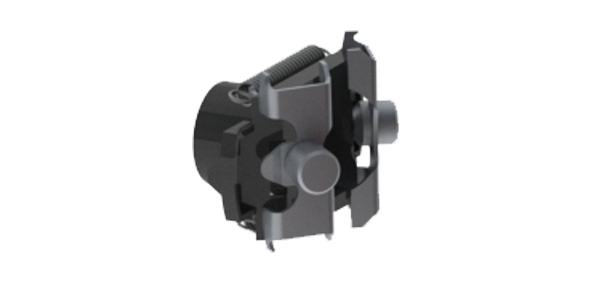 Centrifugal Switch
The starting system of W22 single phase motors was completely redesigned to improve functionality, thus increasing system reliability and lifespan.
Technical Data
| | |
| --- | --- |
| Brand | WEG |
| Frame | 182/4T |
| Output | 3 HP (2.2 kW) |
| Number of Poles | 4 |
| Frequency | 60 Hz |
| Rated Speed | 1745 rpm |
| Slip (%) | 3.06 |
| Rated Voltage (V) | 208-230 |
| Rated Current (A) | 14.5-13.8 |
| L. R. Amperes (A) | 112-106 |
| LRC (A) | 7.7x (Code K) |
| No load Current (A) | 5.78-6.70 |
| Rated Torque (ft.lb) | 9.03 |
| Locked Rotor Torque (%) | 290 |
| Breakdown Torque (%) | 270 |
| Locked Rotor Time | 14s (cold) 8s (hot) |
| Moment of Inertia (J) | 0.3735 sq.ft.lb |
| Insulation Class | F |
| Service Factor | 1.15 |
| Temperature Rise | 80 K |
| Duty Cycle | Cont. (S1) |
| Starting Method | Direct On Line |
| Ambient Temperature | -20°C to +40°C |
| Altitude | 1000 m.a.s.l. |
| Degree of Protection | IP55 |
| Enclosure | IC411 – TEFC |
| Mounting | F-1 |
| Rotation | Both (CW and CCW) |
| Noise Level | 60.0 dB(A) |
| Approx. Weight (lb) | 105 |
Efficiency
| 25% | 50% | 75% | 100% |
| --- | --- | --- | --- |
| 62.3 | 65.0 | 74.0 | 77.0 |
Power Factor
| 25% | 50% | 75% | 100% |
| --- | --- | --- | --- |
| 0.50 | 0.79 | 0.87 | 0.90 |
Features
| | |
| --- | --- |
| Frame Material | Aluminum |
| Impregnation Method | Dip and Bake Polyester |
| Main terminal box hole | NPT 1″ |
| Terminal Block | Without |
| Shaft Locking Device | Without |
| Drain | Rubber, automatic |
| Shaft Material | SAE 1040/45 Carbon Steel |
| Painting | RAL 5009 207A (ISO 12944 – C3) |
| Grounding Lugs | Single |
| Fan Cover material | Steel |
| Tropicalized Painting | Without |
| Bearing cap | No |
| Drip Cover | Without |
| Overload Protector (phenolic) | Without |
| Screw Cap | Carbon Steel SAE 1010/20 |
| Fan material | Plastic |
Dimensions