Applications
This CM 27 is a single impeller centrifugal pumps suitable to cover any small, medium or large capacity request; for domestic, agricultural and industrial purposes; with automatic water distribution through small and medium sized tanks; for sprinkler and flood irrigation systems in gardening and agriculture; to increase in derivation system pressure in aqueducts.
Operating Conditions
Liquid temperature up to 95°F (for home use according to EN 60335-2-41)
Temperature max. liquid: 140°F (for other uses)
Ambient temperature up to 104°F
Total suction lift up to 23ft.
Motor
Two-Pole induction motor (n = 3450 min-1)
Insulation Class F
Protection IP 44
Materials
Pump body: Cast Iron
Motor Support: Cast Iron
Impeller: Stainless Steel AISI 304
Shaft with rotor: Stainless Steel AISI 304
Mechanical seal: Ceramic/Graphite/NBR
Technical Specifications
| | |
| --- | --- |
| Model | CM 27 |
| Brand | Speroni |
| Manufacturer's Warranty | 1 year Limited Warranty |
| Ship Weight | 28.4lbs |
| Port Size (in.) | 1″ |
| Maximum Flow (GPH) | 1560 GPH |
| Maximum Head (ft) | 88ft |
| HP | 3/4HP |
| Volts | 110V/220V – 60Hz |
| Suction Port (in.) | 1″ |
| Discharge Port (in.) | 1″ |
| Self-Priming | Yes |
| Dimensions L x W x H (in.) | 13.7″ x 8.1″ x 10.1″ |
| Product Weight (lbs.) | 23.4lbs |
Dimensions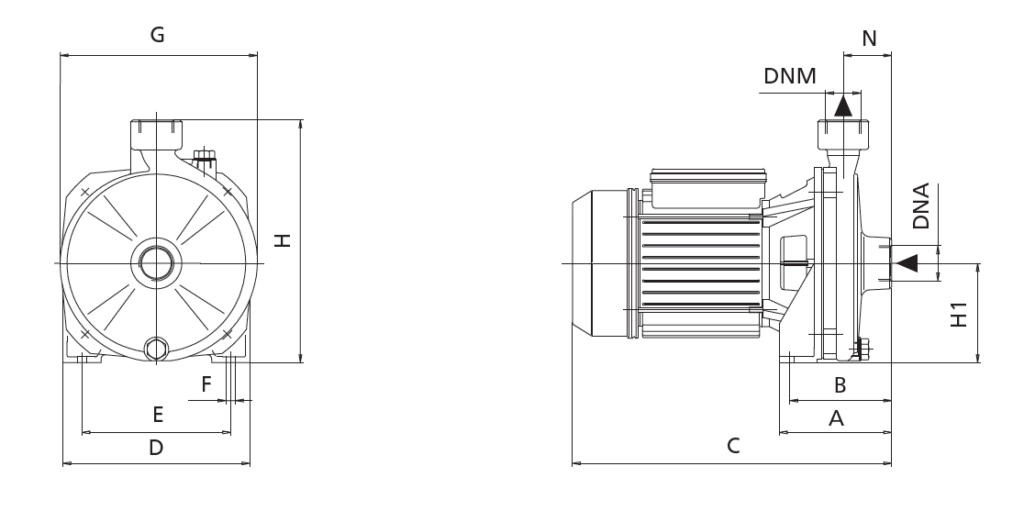 Type
Dimensions
Dimensions
Weight
A
B
C
D
E
F
G
H
H1
N
DNA
DNM
P
L
H
lb
CM 27
4.25″
3.9″
11.8″
6.9″
5.5″
0.4″
7.3″
9″
3.7″
2″
1″
1″
8.1″
13.7″
10.1″
23.4
Performance Table
Type
Nominal Power
Input Power
Amperage
Capacity
110V/220V-60Hz
HP
kW
kW
1 x 110V/220V
GPM
2.6
5.3
11.9
15.9
23.8
26.4
33
CM 27
0.75
0.55
0.9
4A
lt/1′
10
20
45
60
90
100
125
Head(ft)
88.6′
82′
65.6′
59′
45.9′
41′